LM Fitness – Offering Personal Training Leeds
Looking for personal training Leeds? LM fitness specialise in Personal training for individuals or groups. We offer bespoke package's to cater for all groups and targets. Looking to gain lean muscle? We can help. Looking to lose weight? again we can help! We create a personalised plan that's tailored to your specific requirements, helping to ensure your effort and energy is used most efficiently to meet your goals.
One on One Sessions
Sessions typically consist of 1 hour and are gym based. This gives the client comfortable and well equipped surroundings with a vast range of equipment in order to maximise training potential. Other options available include out of gym sessions, for example home visits, and park sessions. (see price list for costs)
Training programmes
Training programmes include personalised session plans tailored to suit your goal. Programmes normally consist of a face to face consultation, a detailed training programme plus a 1 hour one on one session to go through the content of the programme. (see price list for costs)
Nutritional advice
One to one nutritional advice sessions include a detailed chat on how to maximise your potential goals through diet plus a dietary information pack (see price list for costs)
Diet plans
Personalised diet plans, catered around lifestyle, training and individual goals. (Nutritional advice and diet plan often work well as a joint package. See price list.)
Group personal training sessions
As described above, however, groups session are available for 2 or more persons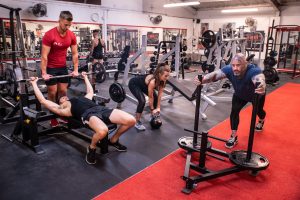 (see price list for costs)
Online Personal Training
Looking for expert advice but your not local? or maybe your on a tighter budget? online Personal training offers you the same support, tailored diet plan & program plus weekly checks via face time & around the clock WhatsApp support. Basically everything you need but without the one to one sessions.